Welcome to the official website of De Refter Tilburg, The Netherlands.

Welcome to the website of The Refter in Tilburg, The Netherlands.
We are specialised in import and sale of monastery furniture, monastery libraries, private bookcollections out of legacy`s and exclusive private collections.

Since 1978 we are located in the citycenter of Tilburg at a distance of 400 meters of the Central Station. In one of the oldest streets of the city,
de Nieuwlandstraat, in a historical building dated from 1737.

We have chosen the name, The Refter for our shop because of it`s historical meaning. In monastery`s, the Refter was the name of the communal refectory where monks and sisters joined to have dinner. The name is an additive of the latin word; Refectorium. A place to refresh.

Our shop is open on

Friday 12.00 untill 18.00
Saturday 11.00 untill 17.00

If you need a descreption of the route please look under Contact on this website.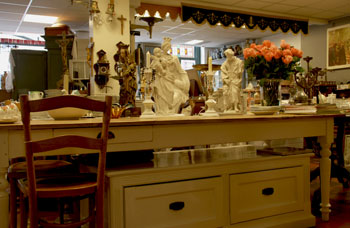 With kind regards
The Refter
Fam. Kolen